2018 Kyoto Global Conference for Rising Public Health Researchers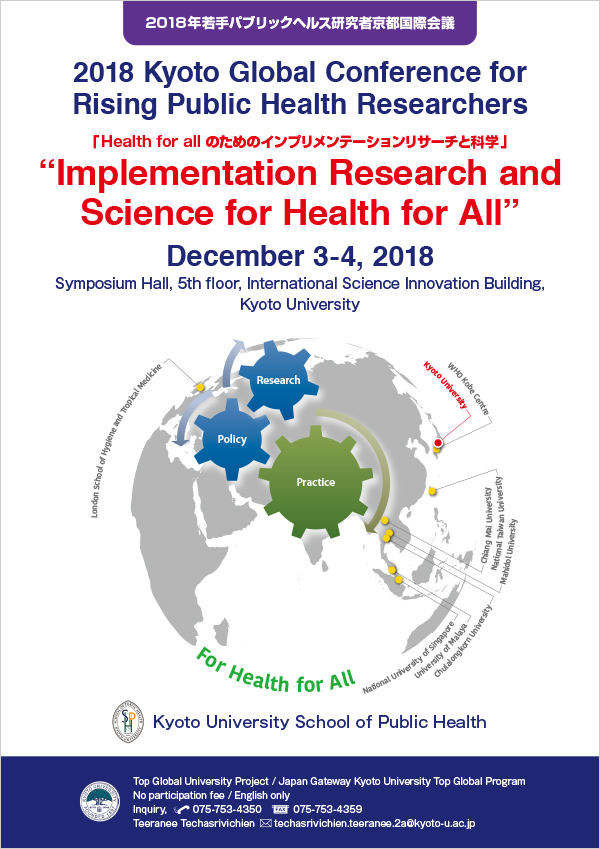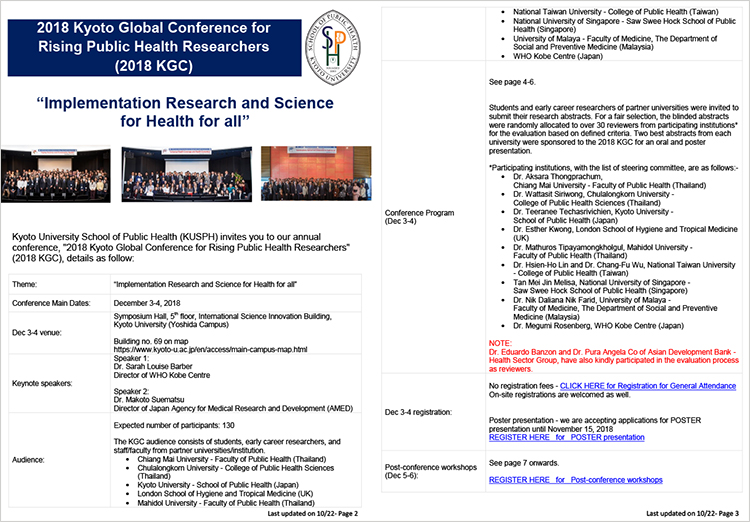 Kyoto University School of Public Health (KUSPH) invites you to the School's annual conference,
"2018 Kyoto Global Conference for Rising Public Health Researchers" (2018 KGC), details as follow:
Theme: 
"Implementation Research and Science for Health for all"
A key challenge faced by the Public/Global health community is how to get proven effective interventions off the shelves and implement them in the real world to improve health and save lives. The 2018 KGC is devoted to raising awareness and understanding of implementation research and science for health for all.
Conference Main Dates: 
December 3-4, 2018
Dec 3-4 Venue: 
Symposium Hall, 5th floor, International Science Innovation Building, Kyoto University (Yoshida Campus)
Keynote speakers: 
Speaker 1 – Dr. Sarah Louise Barber, Director of WHO Kobe Centre
Speaker 2 – Dr. Makoto Suematsu, Director of Japan Agency for Medical Research and Development (AMED)
Participation:
The conference has no registration fees. See page 3 of the attachment for registration info. Walk-ins are welcome as well.
Click here for registration
ORAL presentation program:
Presentations by young researchers from 8 participating universities.
See attachment for more details
POSTER presentation:
We are still accepting POSTER presentation from KUSPH students and staff until November 15. Best poster will receive an award.
Click here for poster presentation registration
Post-conference workshops on Dec 5-6:
This year we also offer add-on capacity-building workshops for young researchers as post-conference activities.
Topics include:-
"Evidence Users' Guides to Meta-Analysis and Network Meta-Analysis" by Professor Toshi A. Furukawa (KUSPH)
"Improving People's Lives with Innovation and Technology" by Toshihiro Nakamura (Co-founder & CEO of Kopernik)
"Mentorship: How to Give It, How to Get It, and Why It Matters. Improve Your Mentoring Skills to Increase Career Success and Satisfaction." by Professor Mitchell Feldman (UCSF)
"Improving Your Presentation Skills – How to Tell Stories That Stick" by Professor Ian Roberts (LSHTM) – This course is sponsored by the Kyoto University Clinical Biostatistics Course
"How to Write a Good Research Paper and Get Published. Tips from an Editor in Chief" By Professor Mitchell Feldman (UCSF)
For more info, see pages 7-12 of the attachment
We look forward to see you in Dec!