Message from the Dean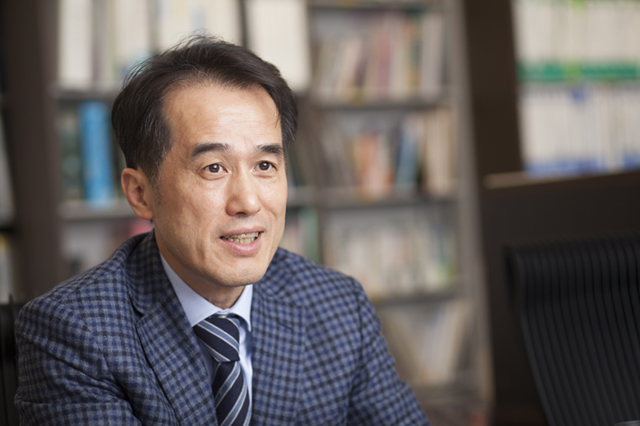 School of Public Health
Dean and Chairman Shunichi FUKUHARA
The Knowledge Hub Connecting Medicine and Society
The Kyoto University School of Public Health is the first large-scale graduate school of public health that was established in Japan in the year 2000. Since inauguration, the school has continued active education and research activities as The Knowledge Hub Connecting Medicine and Society.
The entire world is facing an aging population and Japan is the world's fastest aging and has become a super-aged society. It is obvious that it will be difficult to maintain public health only using conventional high-advanced medical models in an unprecedented super-aged society. First of all, it is necessary to support society or to reduce the early death of the people who will go on to support society. In the past the main cause of death was infectious disease, but now the main cause is from non-communicable diseases (NCD). This is true for both developed and developing countries. Prevention is the most important step to reduce NCD. However, even if death from cancer, stroke, and myocardial infarction were eliminated by medicine and medical care, the average life expectancy of a Japanese person would only be extended by about 5 years. Therefore, there has been a big shift in the goal from extending life expectancy to increasing the quality of life for the future of the whole society. In order to achieve this goal the main focus should be on prevention as opposed to treatment, as well as the challenge of strengthening the regional forces.
On April 13-14, 2015, the World Health Summit Regional Meeting (http://www.worldhealthsummit.org/) was held in Kyoto, hosted by Kyoto University's Graduate School of Medicine, including the School of Public Health as the main focus. The main theme of this meeting discussed what must be done as the social responsibility of medical academia in order to take on the challenge of the super-aged society mentioned above.
In order to overcome this era of great change, the cooperation of universities, corporations, and the government is necessary. There is an urgent need to train professionals to have an active role in a wide range of areas, especially those that cannot be covered by the existing public health sector. In this sense, there is a great amount of social responsibility imposed on us. In many graduate schools the emphasis is placed on research rather than education, but since our inauguration we have been working to improve the quality of education by making efforts to make education the main priority and conducting faculty development and course evaluations. Additionally, from 2012 we began to award the Best Teacher Award based on votes from students. So far there have been over 300 people who have received a Master of Public Health (MPH), about 100 people who have completed the doctoral course, with about 30% of graduates working in academia (7 professors, 19 associate professors or lecturers, and 30 teaching assistants), about 25% working in a medical-related facility, and another 25% working for a corporation or local government.
We welcome anybody who is interested in contributing to the better health of Japan and the people of the world!